Happy New Year guys! It's 2023 and all I can say is WOW. I know it's cliche, but time is truly flying. Anywho, let's talk New Year, New Room 2023! This challenge is hosted by Stephanie with Casa Watkins Living and I will be tackling a space in my home to makeover for the month of January. I'll also be joined by a few other ladies this year as well as we tackle our spaces head on! Check them out below: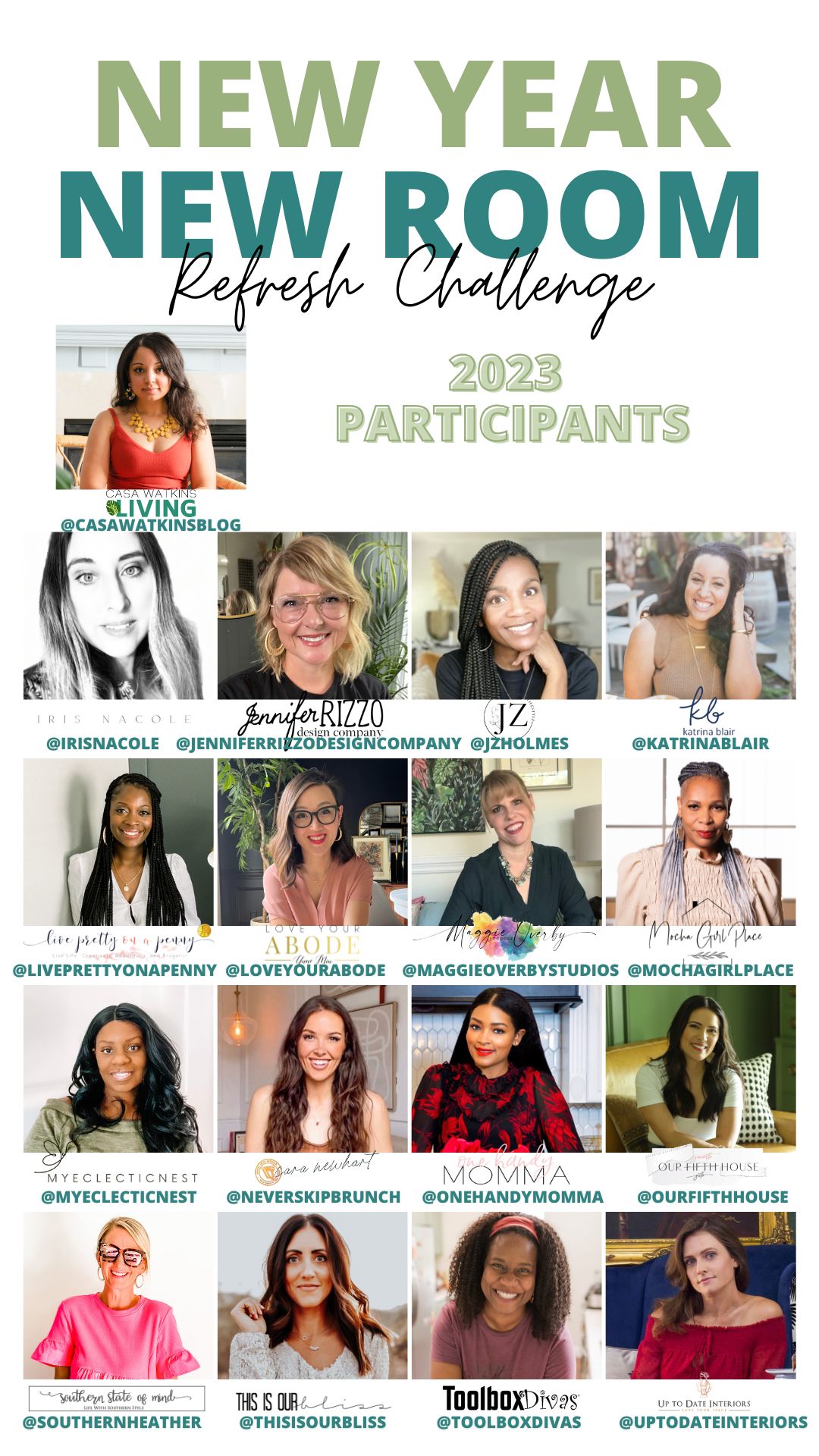 Casa Watkins Living // Iris Nacole // Jennifer Rizzo // JZ Holmes // Katrina Blair // Live Pretty On A Penny // Love Your Abode // Maggie Overby Studios // Mocha Girl Place // My Eclectic Nest // Never Skip Brunch // One Handy Momma // Our Fifth House // Southern State of Mind // This Is Our Bliss // Tool Box Divas // Up To Date Interiors
If you remember, I participated in this very same challenge, making over my office.  While there are more changes I want to make in this space, DIY shelving is still one of my absolute favorite projects.
You can see how it came together HERE,and  HERE . Now, we are back in a space that I have been on pins and needles to tackle and its my basement!! Excited is an understatement. So let's chat about this space a little. In February of last year, I tacked a wallpaper and door makeover project in the basement hallway.
Here it is before:
After installing the wallpaper:
I also added wallpaper and updated this door using trim. I updated the door to the backyard with a little block paint:
Then it sat like this until this Fall, when I added this  this DIY Wall of Cabinets . This is the view you see when coming directly down the stairs. The hallway is the next view.
Now, the time has come to tackle the rest of the space. If you've been following me on Instagram, then you know that my husband so graciously got rid of his pool table to we could turn this space into something more usable.
I was then able to move the sofas from one end of the room, to the other which created a better flow.
Once the pool table was gone and I moved the sofas, then the other side of the basement became the dumping ground. This is one end of the room after I shifted everything to one side. This is the main space in the basement that I will be making over to be a chill, game, bar area.
Once I moved the sofas on this side, I kicked off painting. I've donated pretty much everything in this space to a Womens shelter. I want a clean slate.  
The carpet was so dirty as you can see. We've since gotten it shampood since then. Now I am in the thick of painting, almost done, but because I hate doing it, it's taking me some time.I am painting the entire space one color, including the doors. The color is Intrigue. I hope you will follow along this month to see this space evolve. I can't promise EVERYTHING will be complete by the end of the month, but I want it mostly done, with one side pretty much complete, which is the bar, game table area.
Here are is my official mood board. I plan to DIY the marble counter, which I am nervous about. 
Make sure you follow me on Instagram to catch real time updates. I'll be back next week with an update on the blog! Until next time!