Hey guys! It's Tuesday, so you know what that means? Another New Year New Room refresh update. As I mentioned last week, this challenge is hosted by Stephanie with Casa Watkins Living and I will be tackling a space in my home to makeover for the month of January. I'll also be joined by a few other ladies this year as well as we tackle our spaces head on! Check them out below: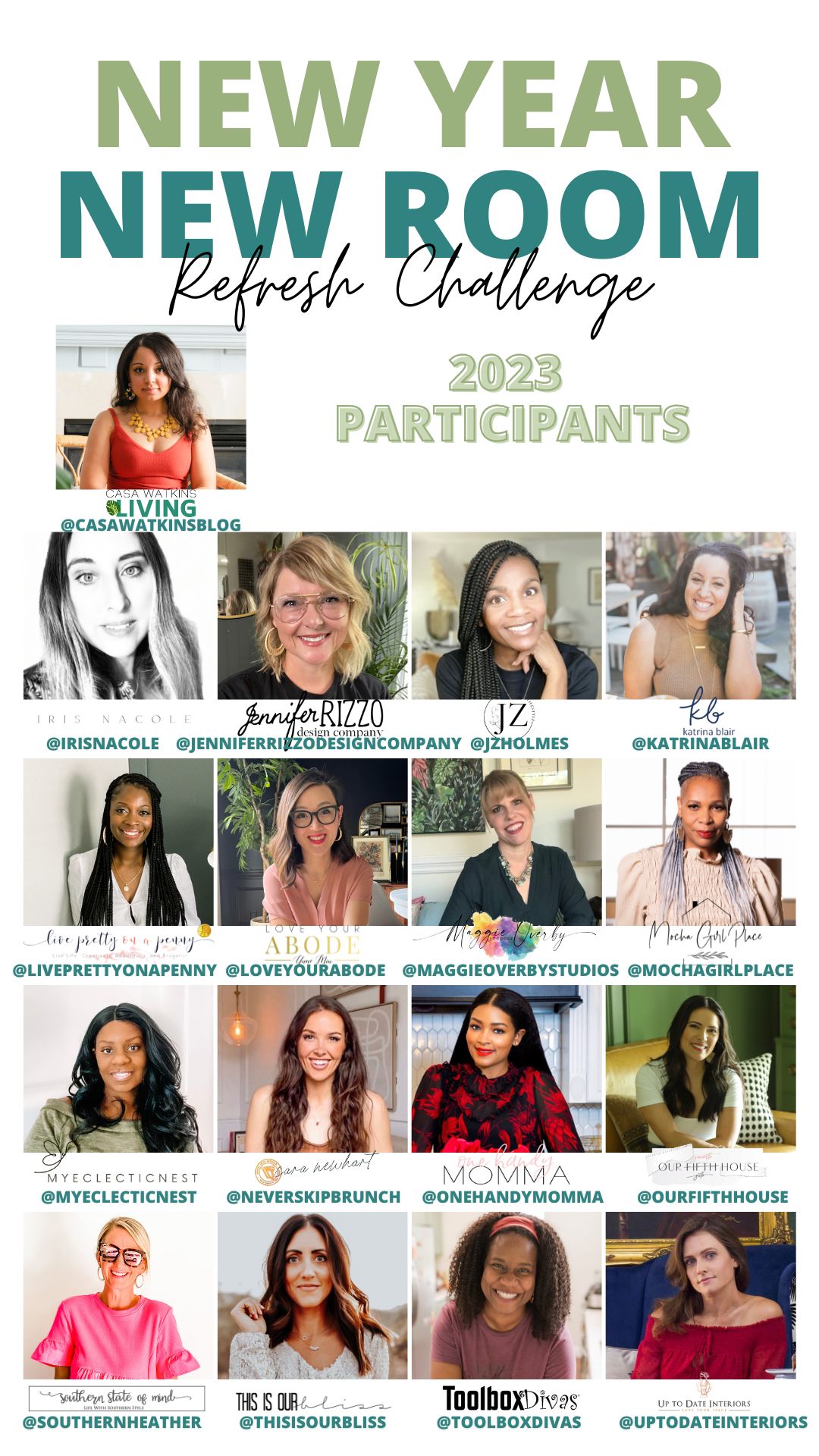 Casa Watkins Living // Iris Nacole // Jennifer Rizzo // JZ Holmes // Katrina Blair // Live Pretty On A Penny // Love Your Abode // Maggie Overby Studios // Mocha Girl Place // My Eclectic Nest // Never Skip Brunch // One Handy Momma // Our Fifth House // Southern State of Mind // This Is Our Bliss // Tool Box Divas // Up To Date Interiors
We've made progress over here and I am excited to share. When we left off last week, I had started painting the basement. I also shared my mood board for the space.   
  Well, since last week, we've made quite a bit of progress! I am happy to report that I have finished painting, started adding furniture and officially started on the bar area.
Bar Area Updates:
To build the bar I am using two unfinished lower kitchen cabinets.
For the bar top, I am using a butcher block counter which will be painted using the DIY Marble countertop technique.
For the top hutches, I am using two Ikea Havsta glass cabinets. They look like these.
I opted to paint everything the the same color as the wall to create the visual in the room simple. with the wood ceiling, I didn't want too many tones bouncing around the room. I've already set up an assembly line to get the Ikea pieces primed painted and painted the lower cabinets.
Here is how its looking so far!
Once the bar is complete, I plan to put together a full how to post with sources of everything use, so don't worry! My refrigerator also arrived and looks absolutely perfect.
Furniture Updates:
I wanted the furniture in the space to be the opposite of the other side. I wanted it to feel cafe/lounge like. This faux marble table and black chairs add a modern touch that are perfect.
I've also started my gallery wall. It's not done, but it's coming together nicely.
So that's it for this week! Make sure you check out the other participants! Come back next week for one final update before the reveal at the end of the month. Hopefully, I'll make a huge dent in the bar area! I'll have a full source list of items in the room at the reveal.
Thanks for stopping by. Until next time.