Hey Guys and HAAAAPY Tuesday. The day is finally here and I am ready to reveal my home office revamp. Many thanks to Stephanie over at Casa Watkins Blog for hosting the New Year New Room annual challenge. It was the push I needed to start the year off. Don't forget the check out the other ladies reveals!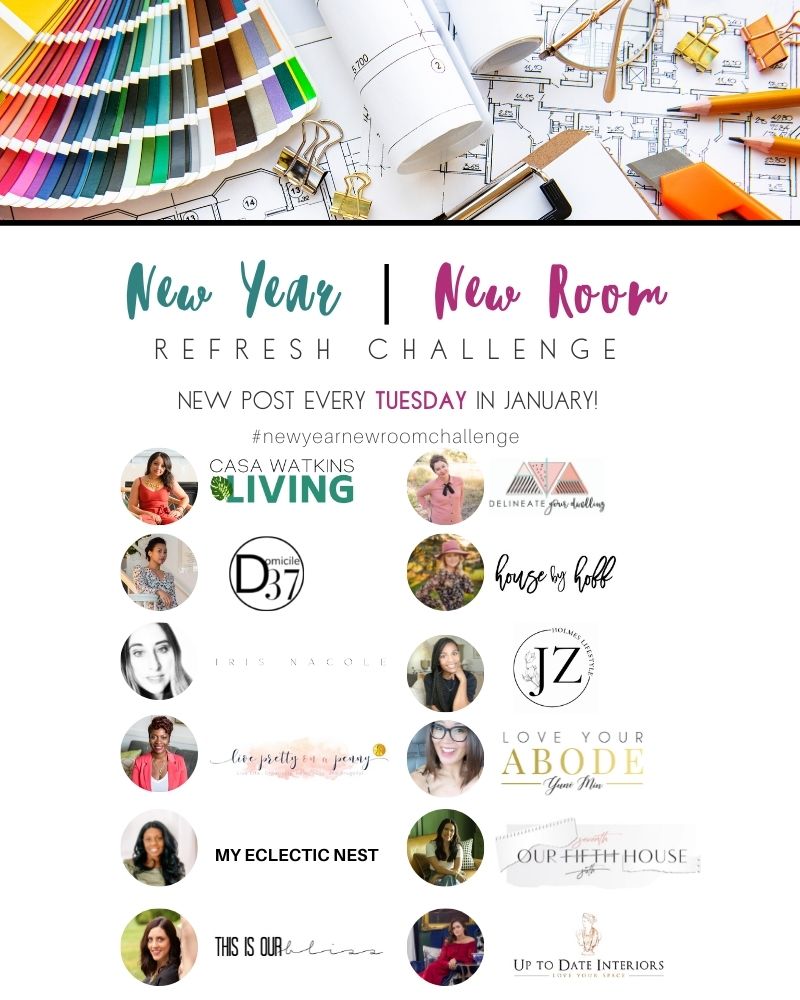 Casa Watkins Living // Delineate Your Dwelling // Domicile 37 // House by Hoff // Iris Nacole // JZ Holmes // Live Pretty On A Penny // Love Your Abode // My Eclectic Nest // Our Fifth House // This Is Our Bliss // Up To Date Interiors
  So as we all know, over the last several weeks, I took you guys along as I created a bright and cheery, inspirational home office space.
When I set out on the journey of this space, I knew I wanted to create somewhere inspirational. Don't get me wrong, I loved my previous office as well, but knew that something more functional would serve me better. So as you remember, I started by removing my Ikea Vittsjo shelves. I remember buying these shelves several years ago, and they've served me well.  However, I needed more functionality.
The main thing was having a central location for storing most of my office supplies, in order to keep the space orderly. So I knew that building a central desk, builtin, storage situation would work best. You can see the progress of how it all came together here and here.
After building the bookcase and desk, I was able to store items out of hidden view, which I love. To hide the cords I even through in this cute belly basket under the desk. The cords are inevitable and are an eyesore.
To give the built-in a bit more of an upscale look, I added these pretty acrylic and gold handles.
The chair is my fav. I've wanted a wishbone chair for ages and when I found this one, I knew I had to have it.
The rug is also so very perfect. It literally just pulled everything together. So many beautiful muted tones.
Across from the built- ins is a small sofa. I love sitting on the sofa to work as well.It initially looked like this:
But now looks like this. It's really not perfect just yet, but it works. The star of the show is truly the built ins anyway.
On this side, I have some diy art, (which I am not sure is finished yet),  a wall clock(that I never knew I needed) and a piece of art that I got framed from my trip to Ghana. I don't love the faux plant. It's just too fake looking so I will be getting rid of it soon.
I love all of the original art pieces and prints. They are what really make this space shine. The gold wall sconces are not hard wired and they originally looked like this and I spray pa. I  will be adding battery operated puck lights to make them useful. So wrapping this all up, I love how this space has evolved over the last 5 weeks. It's crazy what something can become with a little reimagining. I was able to take this wall from this…
To this…
Thank you guys so much for following along. Until next time!