Recently, I have been daydreaming of a finished living room. While I know that completing this room is several months away, I like to plan and watch the room transform little by little. To start, setting the tone with paint always gives me the boost that I need to get the begin any project.
The main parts (entryway, kitchen, family room, main hallways upstairs and downstairs) are Castle Path by Behr.
entryway
My dining room is Fashion Gray by Behr.
dining room
For my living room, I have decided that I wanted a little color. I still wanted it to be neutral, just more depth so I am set on finding the perfect green-gray color.  This is one of the first rooms you see when you come into my home and it faces the same direction as my dining room. They are across from each other, yet separated by the stairs, and entry hallway. I plan to do a home tour video soon so that you get a good idea of the flow. It gets good sunlight during the day, so I think a nice color would be perfect.
Here are the colors that I am considering:
Benjamin Moore Tranquility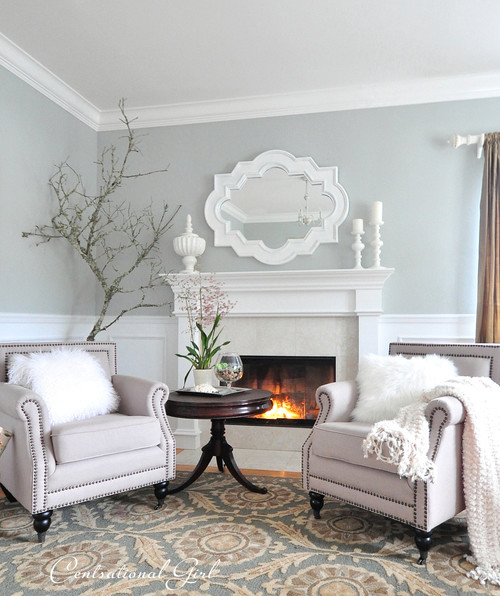 Via
I love how Kate over at Centsational Girl uses this color. She tweaked hers a bit adding two additional drops of blue. I am wondering if it may be too blue for me? Hmmm.  It still has a good amount of greeny gray to it though. I don't know. I am look for a true green-gray, nothing aqua or blue. But never the less, it is still a pretty color!
                                                                  Jade Frost by Glidden
both images via
Another gorgeous color. Again, it looks different in both of these images. *sigh* The swatch appears to be  green gray, as well as the top image, but in a second one, it appears too blue. I understand that its all in the lighting.
Benjamin Moore Vapor Trail
This color may the the closest to what I am looking for.  In all of its images, it seemed to remained pretty consistent. If this is its truest form, then this is EXACTLY what I am looking for!
I love the way the color looks in both images.
I think that I will head by my local Home Depot and snag a few samples.
Do you any of you have these colors in your home? If so, please weigh in. Also, if you have any other color suggestions, let me know. I need help!
Until next time!